TIRE FAQS
Read the things you need to know about your tire purchase
When you are buying a new set of tires you should understand your options
The information in this Tire FAQ provide the information that you need to get a safe reliable tire for your RV or passenger vehicle. This FAQ offers answers to questions about reading your tire markings and purchasing your tires from RVTires.com, so that you better understand which tire is appropriate for your vehicle.
Correct Size Tire For My Vehicle
The best way to determine your vehicles tire size is to refer to the Original Equipment Manufacturers (OEM) specification. It is affixed to the vehicle in various locations.
To learn more about tire sizes for your vehicle, refer to RVTires.com Guide To Determining The Correct Size For Your Vehicle.
Typical tire size specifications can be found in these locations on your vehicle:
Auto, Truck, SUV, Motorhome Class B or C

: Door jamb or glove box or gas filler door.

Travel Trailer, 5th Wheel, trailer

: Exterior left front corner of trailer.

Motorhome Class A

: Interior near driver's seat.
An alternate way to determine your tire size is to refer to your vehicles tires sidewall:

Refer to your Original Equipment Manufacturers listed tire specifications. In addition, you can refer to RVTires.com Guide To Determining The Correct Size For Your Vehicle to learn more about determining the correct tire for your vehicle.
Correct Load Rating for my Vehicle
Load Range and Load Index are the tire manufactures rating of maximum amount of weight a tire can carry under normal driving conditions. Visit Understanding Load Capacity to learn more about determining the correct tire for your vehicle.
Load Range (Ply Rating) is an alphabetical identifier that refer to the number of sidewall plies. For example, the image below shows Load Range E.
Load Index is a numerical identifier that provides the index for both single and dual load range capacity. The Load Index ranges from 1 – 150. Two numbers exists for load index. The first number is the load range for a single tire. The second number is the load index for two tires. The number for dual load index is lower because the tire manufacturers considers a tire blowout.

Visit How to Determine Tire Load Capacity to learn more about determining the correct load range tire for your vehicle.
Reading Manufactured Date on a Tire
Tires sold in the United State are stamped with a US Department of Transportation (DOT) number. The DOT number is a series of 10 – 12 characters stamped on one side of the tire. The 4 numbers in the DOT number sequence indicate the week & year the tire was manufactured.
Visit How to Read the Manufacturer Date / Age of Tire (DOT Number) to learn more about reading the DOT number and the age of your tire.
Example: 3909 : 39 = 39th week | 09 year (2009)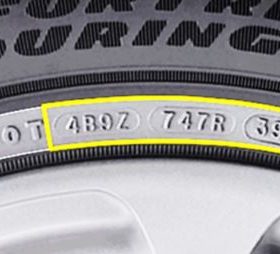 Wrong tires or I do not like the Tires I Received
RVTires.com offers a Refund / Return Policy that provides you with the ability to return / replace un-mounted tires for up to 30 days from date of pick-up. RVTires.com Peace of Mind Guarantee allows you to buy in confidence. So, you can rest assured we put forth every effort to provide the best tire purchasing experience - and should anything not meet your expectations, we will make it right!
Scheduling Tire Installation and What to Expect
First, the day, time and location can be selected during the check-out process.
Secondly, you will receive two (2) emails related to your tire installation selection:
The first email confirmation of your tire purchase, along with the requested date, time and tire dealer location you selected during checkout
While the second email contains confirmation of your tire installation appointment or tire pick-up (date, time, location)
Dealer not Available at my Requested Installation Time
RVTires.com works hard to fulfill all tire orders and requested installation appointments. Should the tire dealer not be available you will receive an email with the following options:
Alternate local RVTires.com tire dealer locations that can install your tires at the requested date and time
Alternate times and / or days available for installation
Full immediate refund
Can I Pick up my Tires?
You have the option to pick-up at your local RVTires.com tire dealer during business hours. If you prefer to have your newly purchased tires installed, RVTires.com provides you with options for tire installation.
Importantly, you MUST show the tire dealer your 'Tire Purchase Confirmation Email' that you received shortly after your on-line purchase is complete.
Note: Confirmation emails for tire dealer installation appointment or tire pick-up appointment are only processed during business hours and processing time varies (usually 1-4 hours) depending on the tire dealer's availability and tire product inventory.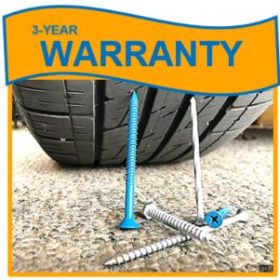 Is my Personal Information Safe and Secure?
Yes, RVTires.com utilizes PayPal as our credit card processing agent.
Additionally, our site is protected and secured by SSL encryption technology.
Can I Access my Order after my Purchase?
To view order information, click on Order Tracking at the top of RVTires.com or go to track-order.
Enter your Order ID or Billing Email, then click the Track button.
Valve stems have rubber components that breakdown over time. Therefore, we strongly recommended to replace valve stems every time you replace your tires. Valve stems are inexpensive and replacing them adds additional assurance that a tire failure, due to loss of air, will not be in your future. So, make sure to replace your valve stems whenever you get new tires.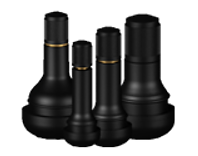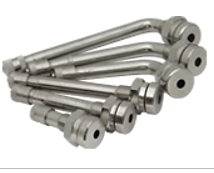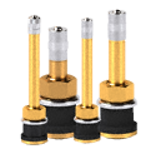 Refer to RVTires.com Tire Help Valve Stems for additional information.
Important note for vehicles equipped with Tire Pressure Monitoring Systems (TPMS): Pressure monitors may require additional parts and/or service. Refer to RVTires.com Tire Help Valve Stems for additional TPMS information.