ROAD HAZARD WARRANTY SUMMARY
RVTires.com is pleased to provide a FREE 1 year Road Hazard Tire Replacement Warranty with every tire purchased*. Additionally, RVTires.com offers an UPGRADE to a 3 year Road Hazard Warranty at great prices.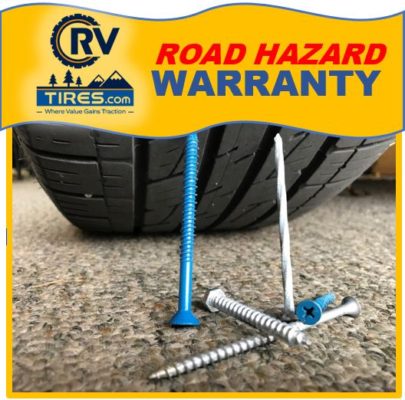 What is road hazard damage?
Tires damaged as a result of a puncture, bruise, or impact break incurred during the course of normal driving on a road maintained by state or local authority (including roads maintained by state or national park services, or improved campgrounds). Nails, glass and potholes are the most common examples of road hazards.
*Please refer to RVTires.com Road Hazard Warranty Terms & Conditions for complete coverage details.
RVTires.com Road Hazard Warranty covers the reimbursement of your damaged tire repair or tire replacement.
1 year of coverage providing reimbursement for full original cost of your tire replacement cost
Reimbursed up to $50.00 for tire repairs per Road Hazard damage occurrence
Coverage extends to tires installed on:

Recreational Vehicle: Motorhome, 5th Wheel Trailer, Travel Trailer and Toy Hauler
Pickup Truck, SUV, Van and Passenger Car.

Coverage to customers within the United States and Canada driving on maintained roads, national park services, or improved campgrounds.
Road Hazard Tire Replacement Warranty is not eligible for the following:
Tires worn past 2/32" of tread
Vehicles or trailers used for business or commercial purposes
Vehicles used for snow removal, carriage of passengers for hire, commercial towing, construction or postal service
Tires installed for police or emergency service vehicles, farming, ranching, or agriculture
Vehicles used for hire